*Updated ECU, TB, IM, dizzy and Injectors with pics and some other parts*
*Stuff that I need clarification on in red, I'd like to get it all 100% then we can just have one thread on this topic that answeres all questions
*
Okay, so I though an article which compiled all of the parts you need, along with pictures for the OBD1 swap. This will be a parts list meant as a supplement to Joris's OBD1 swap guide. If you want to increase power over that available than a Intake/Manifolds/Exhuast swap then you need to swap to OBD1 so you can take advantage of ECU tuning and the possibility of a mini-me, etc.
***If you have a picture of a part that I dont have or you think should be in then please do upload it. Also if you see any errors or things that should be mentioned then post your ideas as the stuff ive written is just knowledge ive gained from this amazing forum!! This is a draft please help me write it!! NOTE parts in read are things im not 100% on!!***
First you need to determine whether your D14 is OBD2a or OBD2b.
EJ9's made from 1996-1998 are OBD2a and 1998-2000 are OBD2b. There may be differences on the UK MA/MB/MC Civics.
. The point of this check is because OBD2a D14's require a different distributor to be able to swap, as explained futher down.
Parts list for both OBD2a and OBD2
*Inlet Manifold (IM) swap: You need to swap your crappy D14 IM for a better designed one from a D16. Not only do these manifolds have better flow characteristics but they also have the correct mountings for OBD1 sensors and equipment. Such as Idle Air Control Valve (IACV) and Throttle cable. You can use both D16Y8 and D16Z6 IM's. There are others that work but may be more complicated. or example Law has used a D15Z6 manifold, which looks similar to a D16Y8, from an EK3 but this came with an EGR valve that had to be disconnected.
Below are pics of my D16Y8 manifold (at least im 90% sure its a D16Y8 manifold as I brought it of someone I didin't personally see the car.
Front View
You can see the IACV and in the top left and the coolant pipe that runs through to the head, in the bottom left.
Rear View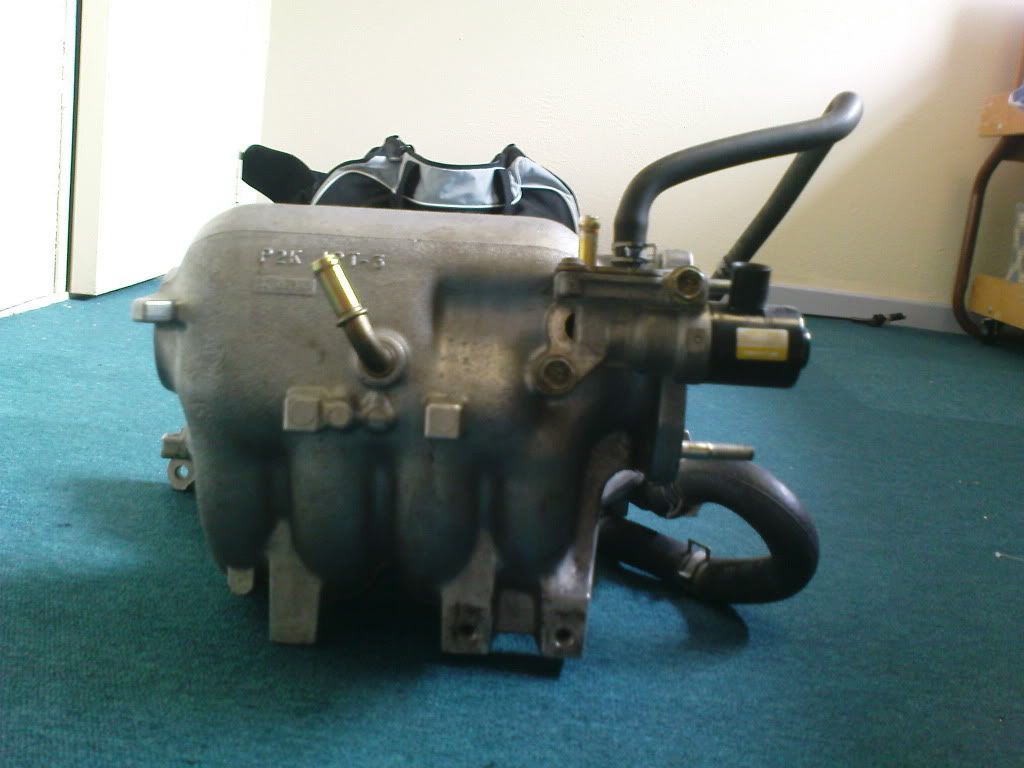 NOTE that the IACV actually goes the other way round!!! You can tell by the gaping hole
!!!! My mistake hehehe
*Throttle Body and IACV (TB): You can use your D14 TB on the D16 manifold. All the D-series TB are the same diameter, they just have different sensors attached. When using an OBD1 ECU the D14 Rotary Air Control Valve (RACV) mounted on the throttle body cannot be used and should be left unplugged, or removed and the holes covered with a piece of metal *NOTE if you just wish to swap IM then you must still use the D14 RACV, only when using a OBD1 ECU should you use IACV*.
A IACV which is mounted on the back of the D16 IM will be used, these valves control the amount of air the engine recieves at idle using the coolant temperature as a guide, when the coolant is cold more air is required to idle thats why idle speed drops as the engine warms.
The OBD1 ECU can control only the IACV not RACV and the D14 ECU can control the RACV only.
Here is a picture of the IACV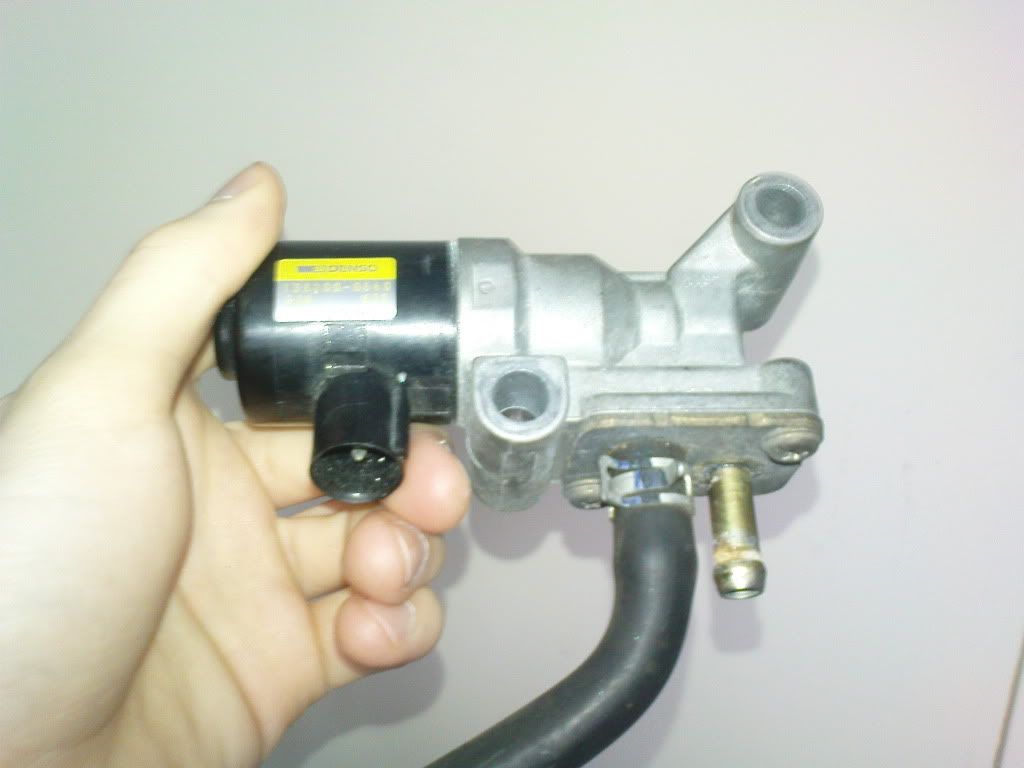 And here one showing the holes that the air passes through.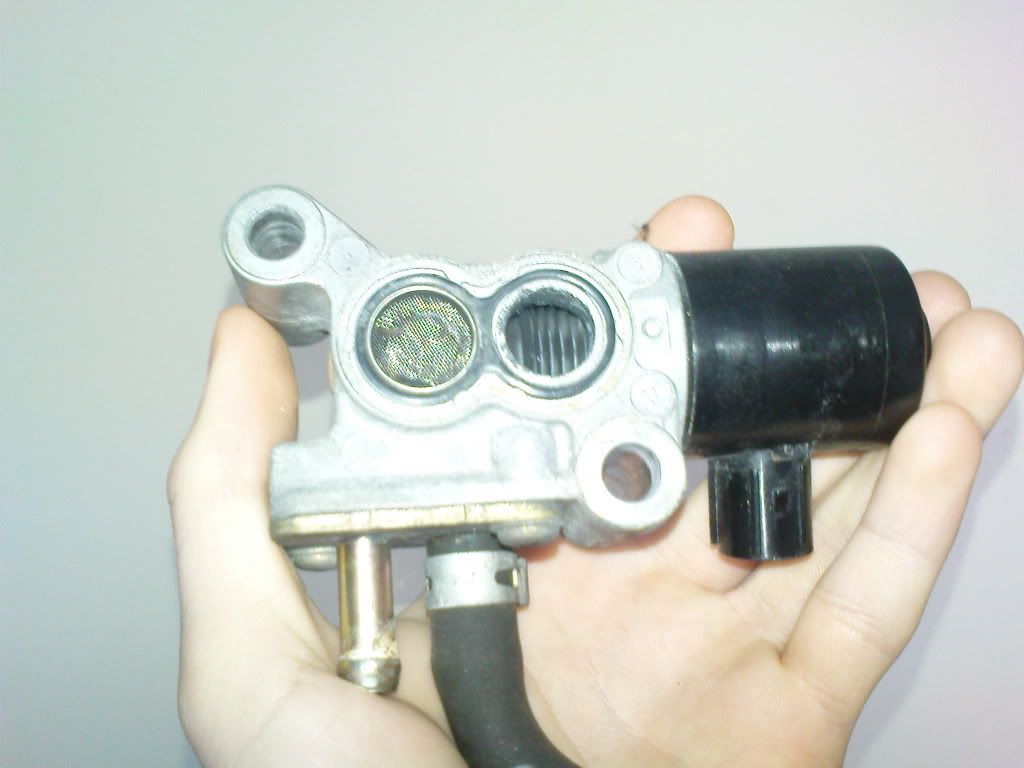 And here a picture showing how it correctly mounts on the IM. Sorry about the quality

*picture of D14 TB will go here, does anyone have one???*
*Side flow induction system: To go with your D16 IM a side flow induction system (called inlet for short) will be needed. You can either go with an OEM airbox and inlet from a D16. Or you can buy an induction system from the market (there are many available) any made to fit a D-series should fit the D14. Note that some of the OEM D16 cars have a hole underneath the airbox to take air from outside of the engine bay, but the EJ9's do not have this hole. You can either make the hole by drilling into the chassis or find a different airbox design.
Here is a picture of my OEM inlet system, It has the issue I stated above so I will have to make a hole in the chassis for it to work.
Also remember that the TB is not in this picture which would normally sit between the inlet and IM, I left a gap to show this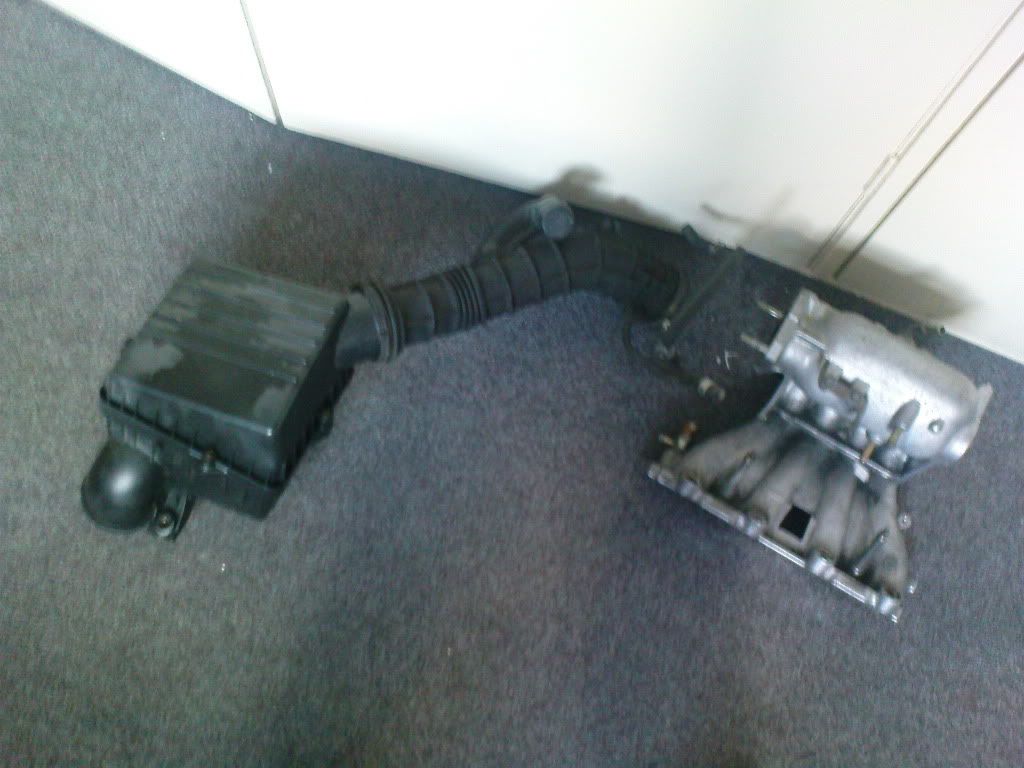 A quick question for anyone who knows what does that U-shaped plastic piece of tubing do? The one attached about half way along the inlet pipe. It has no connectors what so ever. Possibly to slow down air flow but I dont see why that would be particluarly usefull....
* 240cc Injectors and D16 Fuel Rail: The OBD1 ECU that you use will be programmed to work with 240cc injectors and the ones on the D14 are 190cc. Using the D14 injectors will cause your engine to run very lean, which can cause problems. The best thing to do is use the fuel rail and injectors that came with the D16 IM so that your can be sure it fits as the fuel rails are sometimes different shapes depending on engine. The injector cc can be found by checking the colour of the nozzle. Red is for 240cc and Blue is for 190cc. Also there may be an issue with the plug sizes, OBD1 240cc injectors may not fit properly on the plug in the OBD2 loom so may need modification.
Here are pics of my 190cc and 240cc Injectors, both have the same connector shape.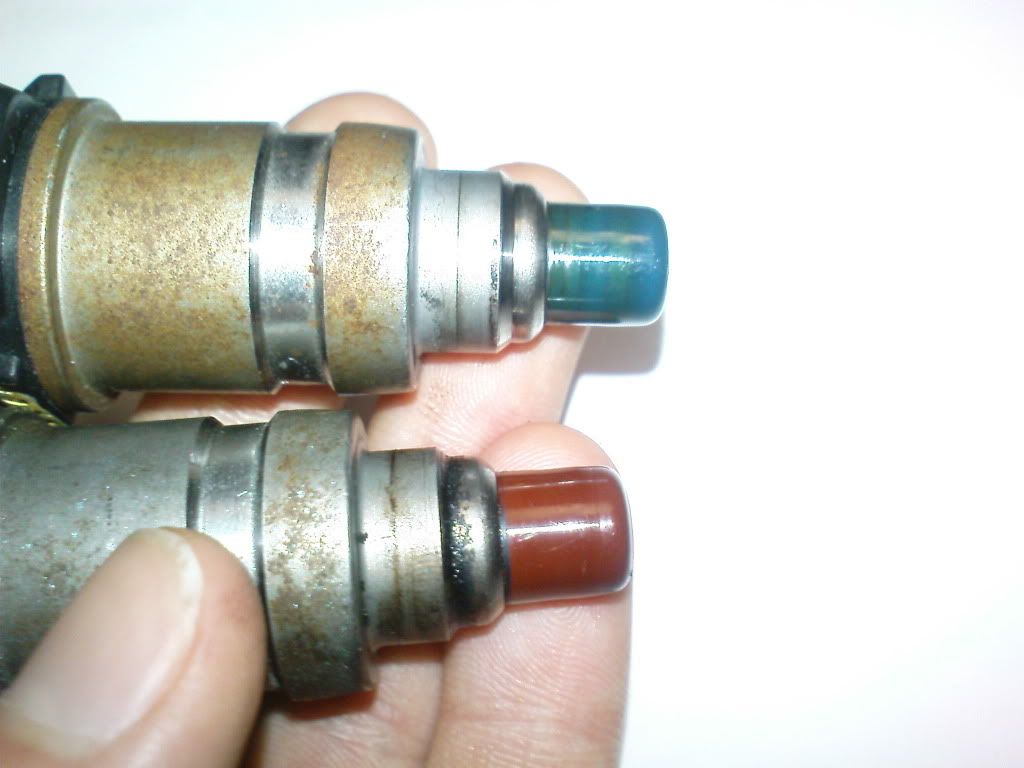 Top one is blue (190cc) bottom is red (140cc).
There are a few different designs of fuel rail for D-series, I havent had a look at the D14 one but its probably similar to one of the ones pictured below. The different cc injectors are intercheangeable between fuel rails but its probably best to use the fuel rail that came with your injectors unless the rail doesnt fit. I have noticed that the location of some of the accesories on the fuel rail are in different places between rails. I have both 190cc and 240cc rails and when mounting the 190cc rail on my Y8 manifold some hoses/parts are in different places. Also FPR might be different between rails so will keep fuel at different pressures possibly causing Rich or Lean mixtures. I think the Z6 rail often causes rich mixtures. Luckily most of the things mounted are intercheangeable so can probably be changed between rails.
Below are pictures of both 190cc rails and 240cc rails mounted on my Y8 IM showing differences in location.
190cc Far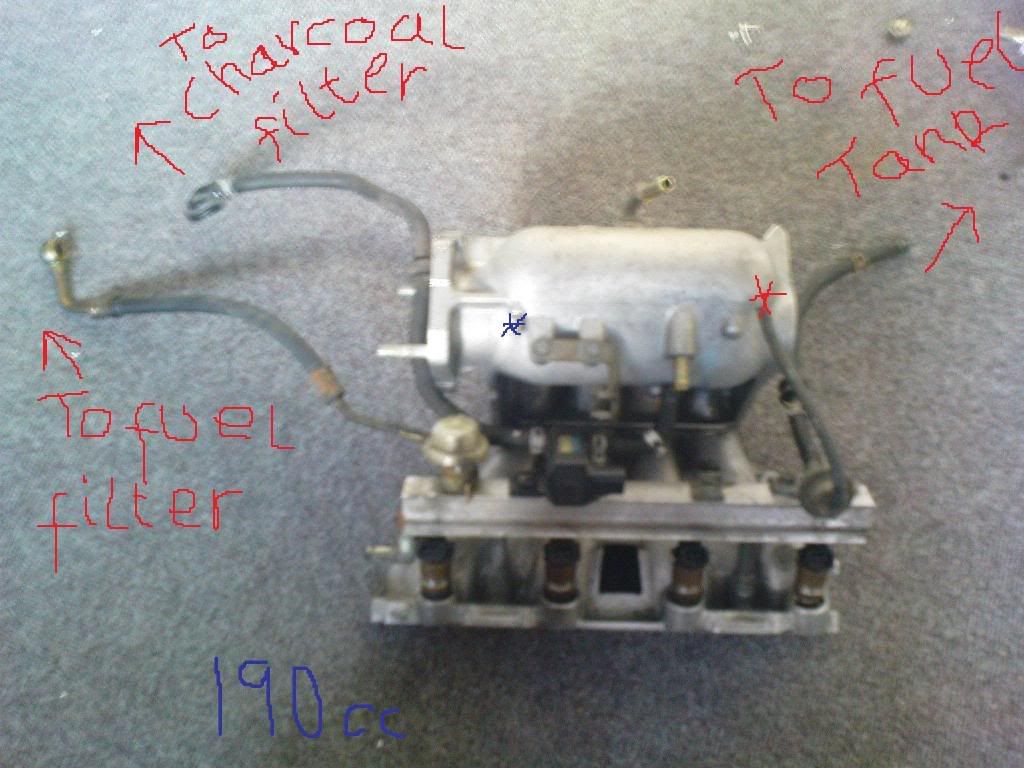 190cc Close-up
I have annotated where some of the hoses go, the asterix shows the hose that connects the fuel pressure regulator (FPR) to the IM. As you can see it doesn't reach the little nozzle (marked by the blue asterix). You could find a hose that makes it fit but best to use the correct fuel rail.
240cc Far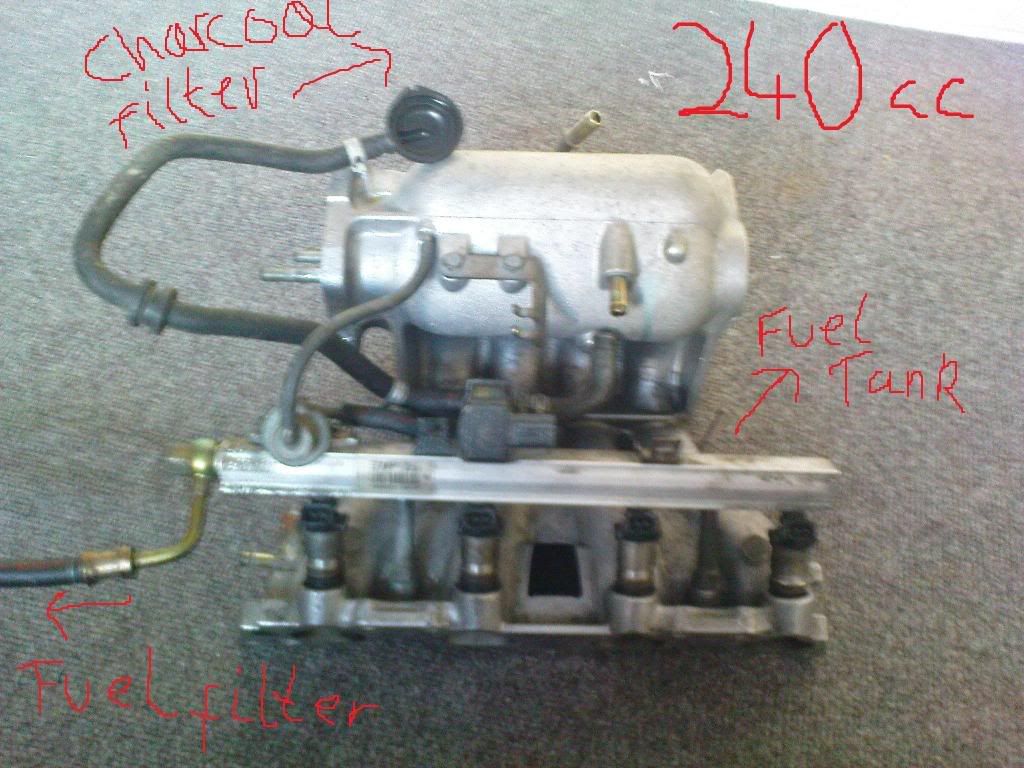 240cc Close-up
The things mounted on both fuel rails are:
*Fuel inlet; on 240cc it is a threaded screw with a banjo bolt to let fuel into the rail but on the 190cc it has a thing that looks like a FPR with a banjo bolt fitting on the fuel filter instead. Possibly this is an extra pressure regulator due to the lower cc of the injectors??
*FPR; both have a similar FPR but they are mounted at other points, on the 190cc the hose doesnt reach the IM and the overflow to the fuel tank probably doesnt reach either. On the 240cc the hose does reach and it has a different return pipe.
*Solenoid for Charcoal filter; These are both mounted insimilar places so the hoses both reach.
The things above are all mounted in at different places on each fuel rail so the 190cc would not be useable on my IM unless I changed some of the components around. The 240cc rail is the one that came with my Y8 IM so as long as it connects up with my D14 Fuel Filter and return pipe then it will work fine. It would be interesting/usefull if other could post pics of thier rails and whether they had trouble using them.
If you havent changed your IM yet then you will also need the mounting brackets and throttle cable from a sideflow TB civic. The throttle cable you use will be quite long (about 2 metres) and will have a few mounting brackets. You will also need the cable pulley from the TB of the sideflow civic.
Throttle Cable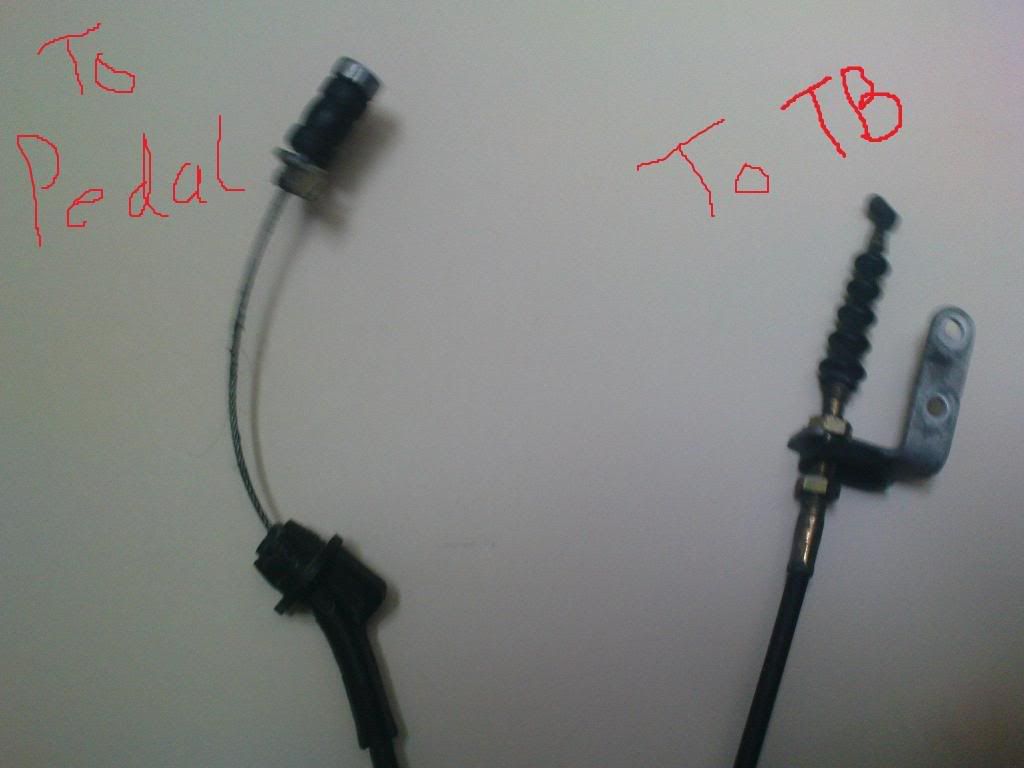 Mounting Brackets and Cable Pulley
*OBD1 ECU: To run tune your car you need to run OBD1 and to run OBD1 you need a OBD1 ECU. The most commonly used are the P06 and P28 ECU's found on the D15B7 and D16Z6 respectively. The P06 is easier to come by in Europe I believe. The difference between OBD2 and OBD1 is the componenets that the ECU uses to control the engine, so the aim of an OBD1 swap is too change the OBD2 components to thoose used by the OBD1 ECU. These extra wires are tackled by the conversion harness.
The P06 is a non VTEC ECU, it does not have the components needed for VTEC, If you plan on running non VTEC then the P28 is the ECU for you. If you want to run VTEC, for example if your doing a mini-me then you can get the P28 as it has VTEC components. It is not too difficult to add the VTEC components to your P06 ECU, but you will deffinately need to get it tuned as the standard P06 map will not run with VTEC properly.
Here is a topic showing how to convert P06 to VTEC functionality:
viewtopic.php?f=13&t=99&start=0
The D14 will run with standard P06 maps as long as your have the correct size injectors (240cc) but its allways best to tune as soon as possible. I dont think the D14 will run properly with P28 maps as this has a different map for VTEC so you may run very rich.
Here is a picture of my P06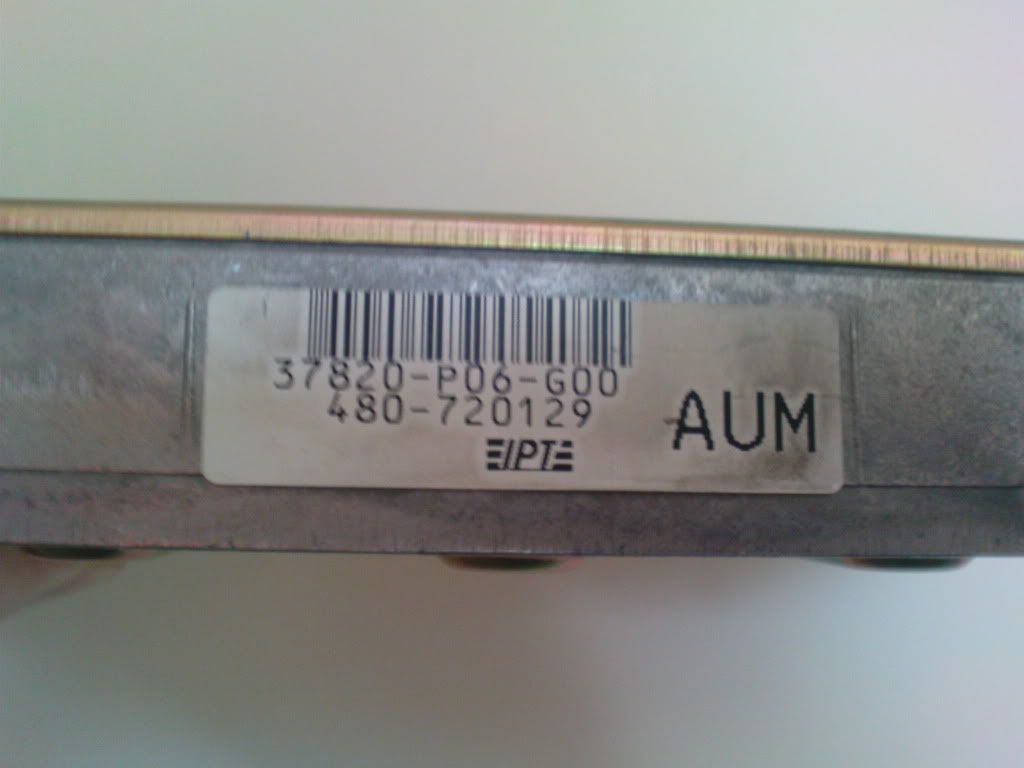 And another showing the connectors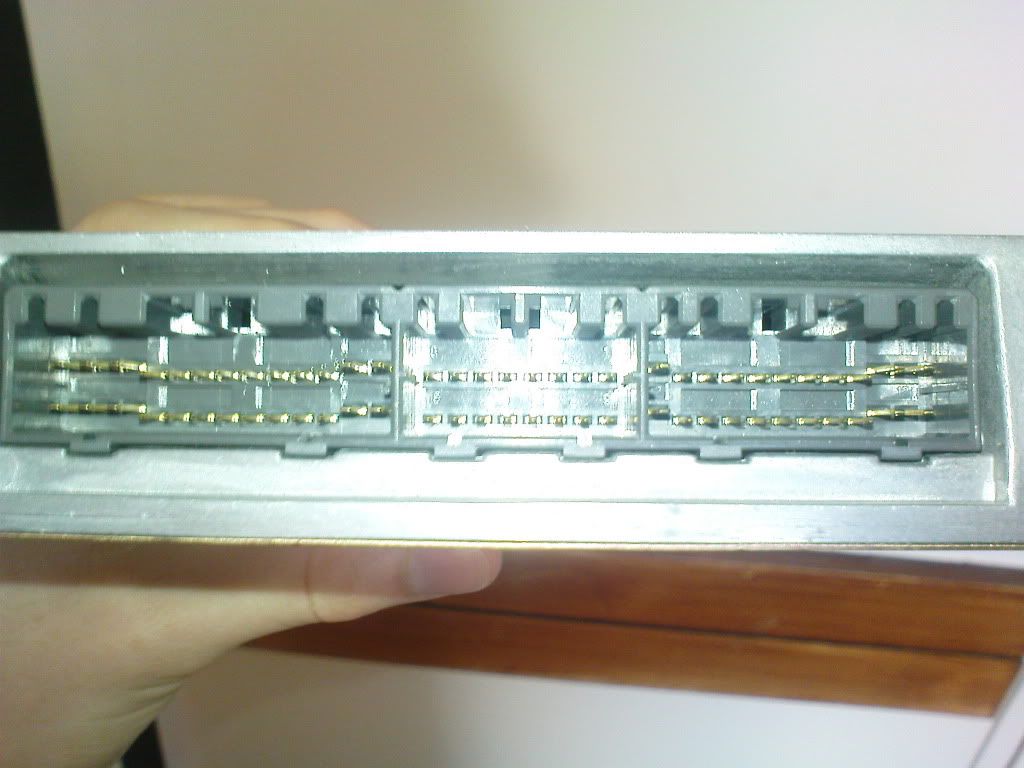 * Conversion Harness: You need to either buy or make your own conversion harness that connects the ECU to the Engine. The standard EJ9 one will not have enough wires. You can either follow the instructions in Joris's article or purchase a conversion harness for your type of EJ9 (either OBD2a or 2b), from a site like this:
http://www.boomslang.us/obd2to1.htm
These are quite expensive ~£65 but if you dont feel confortable with fiddling with electonics and soldering (like me) then maybe its the best choice for you.
*picture of home made conversion harness)
*Distributor (AKA: dizzy, (for OBD2a D14's only (years 1996-1998))): For OBD2a EJ9's a different dizzy is required these engines have a different dizzy than OBD2b which is not compatible with OBD1. A dizzy that you can use is the TD-41U found on the D15B7 engine (which is also where you get the P06 ECU. But there are others that can be used such as from D16Y8 and D16Z6 from years 1992-2000. The OBD2a dizzy has 7 wires running from it, the OBD1 and OBD2b have 9 wires running from it. The OBD1 ECU will need the 9 wire dizzy to work. Therefore count the number of wires on your dizzy:
7 Wires means change it, it cannot be used for OBD1.
9 Wires means keep it, it can be used for OBD1.
Here is a picture of my TD-41U distributor from a D15B7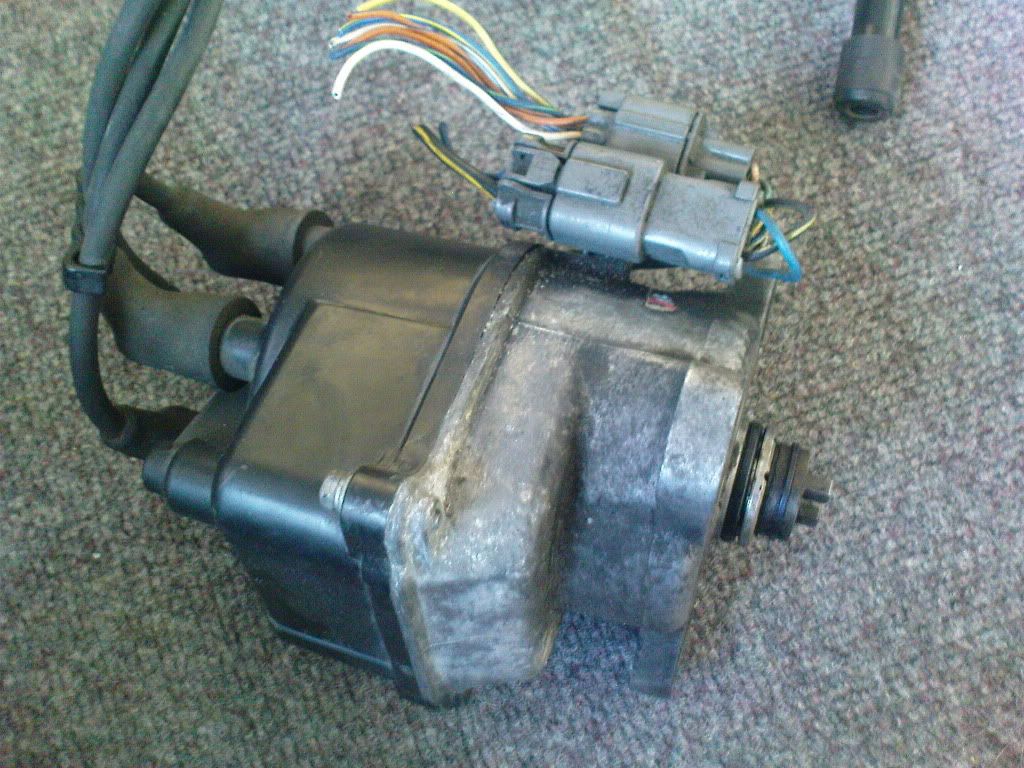 The wires coming out of it:
And code (took me ages to find!!)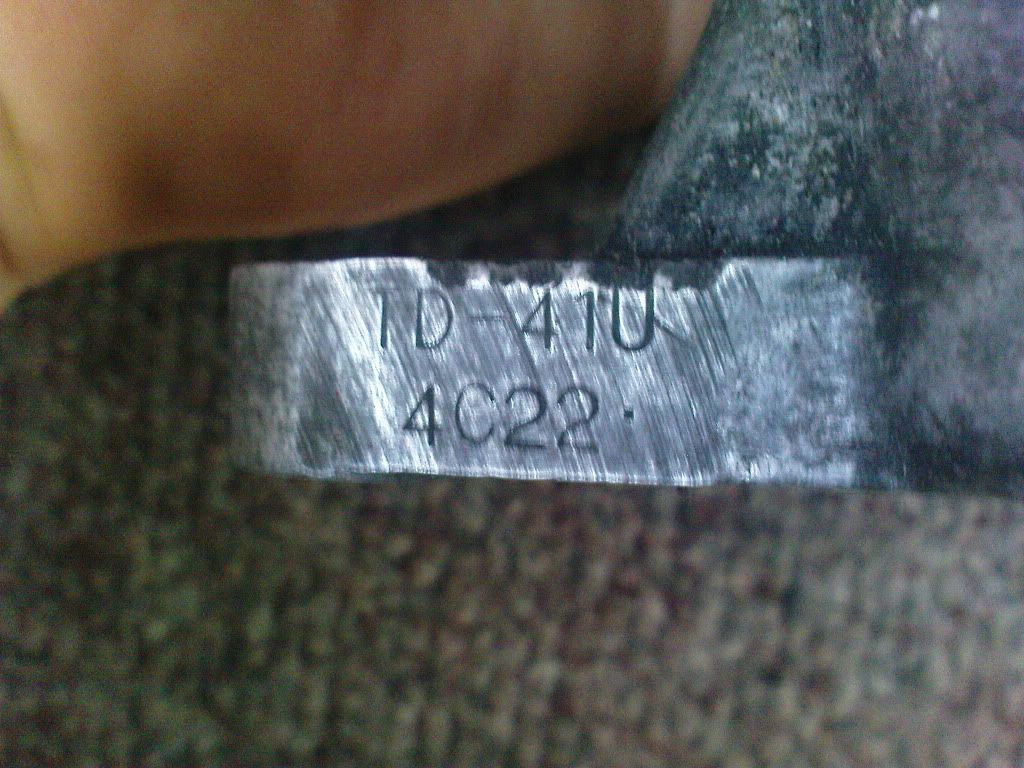 ** If anyone can provide pics for homemade conversion harness or D14 TB it would help very much**
Please post and queries, thoughts, etc, I wanna get this 100%.
..... To be continued